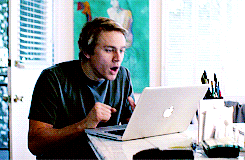 Content marketing is something that most businesses today should never take for granted. In fact, it's the leading marketing strategy among today's biggest digital-based economies. That is why each year, hundreds of seminars and workshops are done  all over the globe, all with one goal: To be better at doing content marketing. But for you who don't have that much time and budget to travel across the world, we have compiled in this post all the necessary things that will transform your own content marketing campaign for good.
1. Set the Foundation First
The very first step that you have to take for a successful content marketing campaign is to establish a strong footing on the fundamental aspects of content marketing such as the content marketing plan, your objectives and target audience, and the publishing platform that you will use for each type of content that you will create.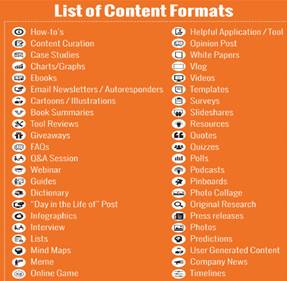 Figure 1Types of Content from JeffBullas.com
Choose Technology Platform- You have to specify what technologies you are going to use to deliver your content to your target audience. It could be in the form of:

WordPress- for website/blog combination
YouTube and Vimeo- for videos
Stitcher and iTunes- for podcast
Amazon– for eBooks
Facebook, Twitter, Google+ – for social interaction
You should also set an objective for each channel, and decide how you are going to use each platform. For example, you can use Facebook to engage your customers in a more personal way, and Twitter to share some quotations and personal thoughts about your niche.
 2. Set an Editorial Calendar
You need an editorial calendar to be able to catch up on every content that you are scheduled to create. This will make your content marketing strategy more organize and consistent, and consistency is one of the keys to achieving success in content marketing. To create an editorial calendar, this steps from Hubspot will help you to create one:
Make or download a calendar template. Hubspot offers free templates which contain three editorial templates: One for Google calendar, one for Excel, and one for Google sheets.
Open the Google Calendar and select "Create new calendar" under the "My Calendars" drop-down arrow on the left-hand side of your screen. Fill out all the necessary field but don't select "share this calendar to others" yet. When you're done filling in the details, click "Create Calendar"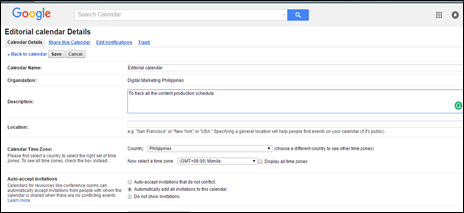 Select "Import calendar" under the "Other Calendars" drop-down menu on the left side of your screen. Choose file and then locate the CSV file entitled "Blog Editorial Calendar – Google Calendar" that was included in the ZIP file you downloaded with the offer. For the "Calendar" option, be sure to choose the name of the calendar you just created from the drop-down Then, click "Import." A dialog box will appear saying that 7 events were added, click "Close". Navigate to January 3, 2016, and you should see one "Blog TBD" calendar event on each day from 10 am to 11 am.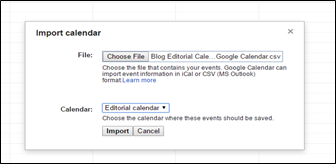 Fill the calendar with your publishing schedule. It is up to you if you want to publish every day, but remember to always go with the quality of your content than quantity.
If you have a regular publishing schedule, like every Monday, Wednesday, and Friday at 10 am, for instance, then put that in as a recurring "slot" on your calendar. Just select one event and click on the days that you want that event to repeat.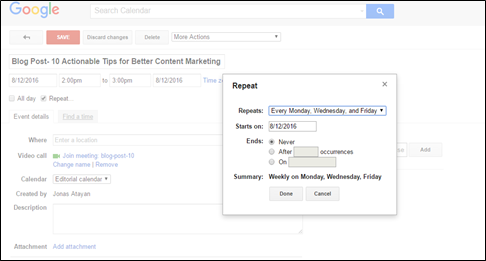 Share your editorial calendar with others by clicking "Share this Calendar" option in the drop-down menu beside your editorial calendar.

3. Don't Forget to Set-up your KPI's
In content marketing, it is very important to track all your key performance indicators to give you the idea on the success of your content, and the projected return on investment rate for money spent. If you don't have any idea which KPI to choose, Neil Patel has suggested a few key metrics:
Comments – People usually comments on content that gets their attention and engages them. Track the number of comment you get on every content you post, and as much as possible, analyze each comment for spam and malicious links. This will ensure that your audience's discussion is not distracted from the topic you posted.
Page Views – This metric provides a solid understanding of the type of reach you're gaining with your content. SimilarWeb offers a free service that will help you to have some estimated value and daily page views of a certain website. The example below shows the total visits and other information of the of Forbes website using SimilarWeb:

Average time on page – Consider this metric as the "amount of interest" that your audience has to your content. Also known as dwell time, this signifies the amount of time it takes a user to come back to Google after looking at a site.
Social Sharing – If your content is shared across different social media platforms, it only means that your content is helpful, fresh, and worth reading.
Keyword Ranking – You need to consider the role of keywords and ranking in your content. If your site has a low search engine ranking for targeted keywords, it means that your content is not attracting organic traffic.
4. Build the Right Team
Aside from your topics, metrics, and tools, the success of your content marketing strategy will also depend on the human element: Your Content Marketing Team. To ensure that you have the right people that will help you to achieve your content marketing goal, here are the four tips from Inside Content Marketing for building a content marketing successful team:
Hire a Journalist – Writers with journalistic experience has the same skill set as copywriters do. And they know a good story when they see one, and can bring a new perspective to your marketing efforts.
Outside Expertise – Having an outsider's perspective on your business and content will help you assess if you are slipping into sales and marketing talk which is the furthest thing from the kind of compelling storytelling required for a successful content marketing.
Invest in Education – Content marketing is always evolving. There's always a new technique, approach, or tool out there on a near-daily basis. Helping your team to grow and learn more holistically about content marketing will give them more confidence in their work. Online certifications and courses offered by Online Marketing Institute and Skillshare abound to help content marketers to stay at the top of their game.
You May Need a Publisher – Publishers may have the reach that you may not. They also know their audience and can help you connect with them. Working with publishers to create custom content can help you reach a wider audience and do so more effectively.
5. Write your Content…like a Pro
Now that you have completed all the basics, it's time to go to the next step which is creating content. All content starts with the written word or concept, either it's a blog post, an eBook, an image, or podcast. To learn how to write a relevant, creative, and engaging content, just follow the steps below.
Choose Your Topic- The major source for your topic is your editorial calendar. Check it and see what's scheduled for production. If you feel like creating something that will perform very well in social media, you can BuzzSumo to help you come up with titles. With BuzzSumo, you can create content based on topics that have the most shares.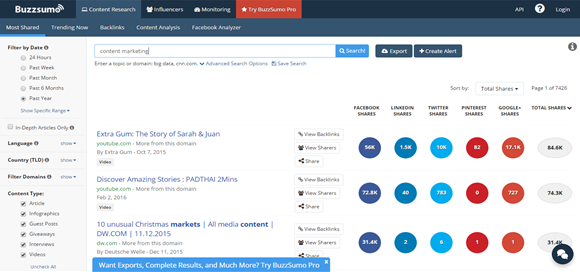 Do Your Research – Look for information that will prove your points and validate your opinions. This could be in the form of quotes, statistics, case studies, stories, and ideas from respected authorities. Feedly, which you can see below, can help you to save and organize useful articles and statistics coming from different sites that could serve as your source for your future content.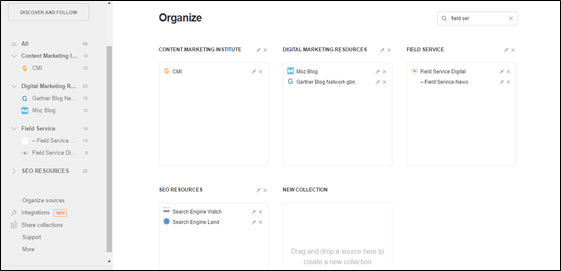 Organize your Ideas – All of your collected information should be in the structure of: Introduction, to get people's attention and tell them what information they're going to get if they keep reading; Body, is where you elaborate your main point; Close, to summarize all your and bring back everything to your main point; and Call to Action, where you tell people what they need to do next.
Write Your Draft – You should only be roughing out your ideas in writing draft, so don't exert too much effort on perfecting it. Pick and develop one part of your article at a time e.g. Introduction. A startling statement or surprising statistic in the introduction can help you hook people's interest to get them reading. Just remember to sustain your tone and keep your message as coherent as possible as you go through the other parts of your content.
Edit. Edit – Before you proceed in this step, remember to give yourself a little bit of rest to ensure that your mind will function very well in correcting every small detail of your content. After that, you can now evaluate your written piece: from its organizational structure, introduction, title, to tweaking the language. There are online tools such as Grammarly that will help you to proofread your content by checking its grammar, contextual spelling, punctuation, style, and sentence structure.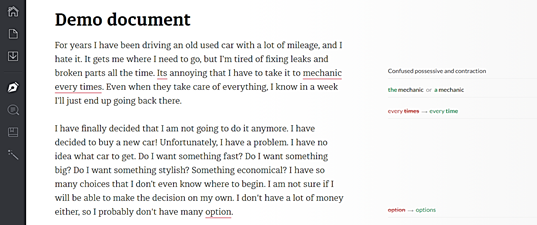 6. Include Visuals in Your Written Content
BuzzSumo found that posts with an image every 75-100 words got the most shares across the platforms. Having said that, images are an effective way to get people read your whole post, and putting enough images between sections will help them to understand better your points. To do this, you have to:
Use an image at the top of the post, either before the text or after the first sentence o first paragraph.
If possible, try to include image between every section of your content. This will make every section more interesting to read.
Choose colorful images to prove some of your points. It may include colorful graphs or colorful image banner.
This example shows a colorful image banner which also includes the title of the blog post: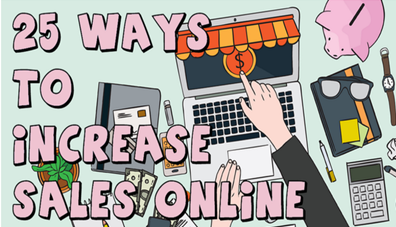 7. Explore Evergreen Contents
Evergreen content is a type of content that is not usually get out of date, always appear fresh and timeless, and very useful and relevant to readers. Creating one is a great strategy for improving your search rankings, as well as improving your content.  Here are some simple tips on how to create an evergreen content:
Write for beginners to make it as readable and comprehensible as possible.
Make a compelling headline.
Make your topic as specific as possible
Make it sound like it offers immediate value.
A good example of evergreen content is this one for fixing flat tires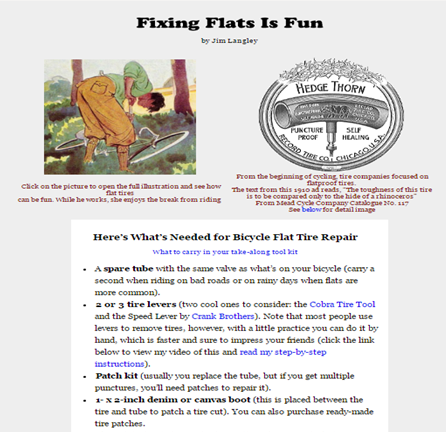 You can learn more about Evergreen Content in our previous post 10 Actionable to Create an Evergreen Content According to Experts.
8. Try Newsjacking
You can leverage on trending and popular news stories to increase the media mileage of your content. It's a simple strategy that can bring a lot of benefits such as improved brand reputation, higher traffic, and increase social shares and activities. Follow this simple tips to create your first newsjacking content:
Mark your editorial calendar for special events throughout the year. This will give you the time to plan how you will relate the event to your business. OnThisDay is an online calendar that can help you track special events that happened on a specific date
Monitor the news and stories on social media sites such as Facebook and Twitter to help you identify news fit for newsjacking
Avoid newsjacking stories about death and tragedy.
Post your content when it is most relevant.
A good example of newsjacking article that we did was this about the marketing lessons in Pokémon Go: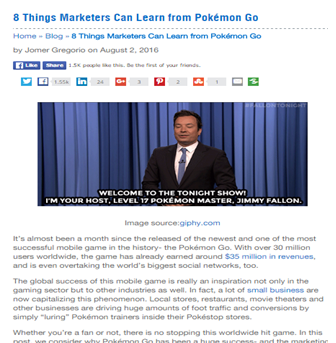 You can learn more about Newsjacking on our previous article Newsjacking in Content Marketing – Things You Should Know
9. Use Influencer Marketing to Promote your Content
Promotion is a vital step to ensure that your target audience will get your message. And because the Internet today is so crowded than it was few years ago, a strategy like Influencer marketing can help you to reach your audience as quickly and easy as possible. To use influencer marketing in your content promotion, you can follow this simple steps from Convince and Convert:
Create a list of potential influencers who influences your buyers. You can do this by typing in your business keywords on Twitter and LinkedIn search box. Meltwaters Blog Search Engine as well as Twingly are valuable resources if you are looking for influential bloggers.
Once you have identified a list of influencers, prioritize them based on who you think will have the most impact, focusing your efforts on just a few at a time.
Send them a personalized e-mail that explains that you have been following them for a while and would like to introduce yourself and your business.
Make the process of working with you as easy as possible.
Send them a thank your e-mail for their work and ask them to share the content with their audience.
One best example of use of influencer marketing is this one, targeted to trendsetters and early adopters:
10. Repurpose your Content
It's natural to feel tired thinking and thinking of new topics for your content. But luckily, there is a secret in producing a new one and it is called Content Repurposing. The idea behind this is to reuse the idea and other information in your past contents and refashion them into something original like in a new format. To repurpose your content, you can:
Take an interesting part from one of your last post e.g. interesting point or fact, then flesh it out for another post where you can discuss it even further
Collect all your blog post that are well-received by your audience and compile them into an eBook
Turn your how-to posts into a video tutorial
Turn your blog post into an infographic

In the image below you can see how we repurposed our standard blog post into an infographic:
11. Consider Paid Content Promotion
Social media marketing is an invaluable tool for boosting one's content in terms of social shares, traffic as well as buzz around them.
Steps:
Identify which contents you would like to be promoted (we usually promote ALL of our blog posts)
Select which channels you would like to use (FB works better, Twitter, Instagram have options as well)
Choose your desired budget (the higher the better exposure, reach, social shares and traffic)
Select the duration of the promotion
Rinse and repeat
You can also explore different paid content promotion channels such as Outbrain, Taboola, Disqus and so on.
12. Strategic Content Outreach
The last and most actionable tip we can offer you is the implementation of strategic outreach. In our experience, this works better for visual contents such as infographics, videos and visual guides.
Steps:
Identify the niche or category of the content you would like to promote
Search for authority and relevant blogs in that niche or category
Prepare your customized outreach email per blog
Find the contact us page or editor's email
Send the customized email one at a time (prepare to do some negotiation)
Follow-up unresponsive editors
Rinse and Repeat.
Success in content marketing only comes if you have the habit to continually improve yourself. In this ever-changing digital world, content marketing, combined with the power of social media outreach, link building, and SEO is necessary to bring in the positive results plays a large role in any digital marketing efforts. But it is also important to keep in mind that those tips are not only meant to keep you on track but ultimately, it is for your readers and audiences, who will certainly benefit from your well-crafted contents.