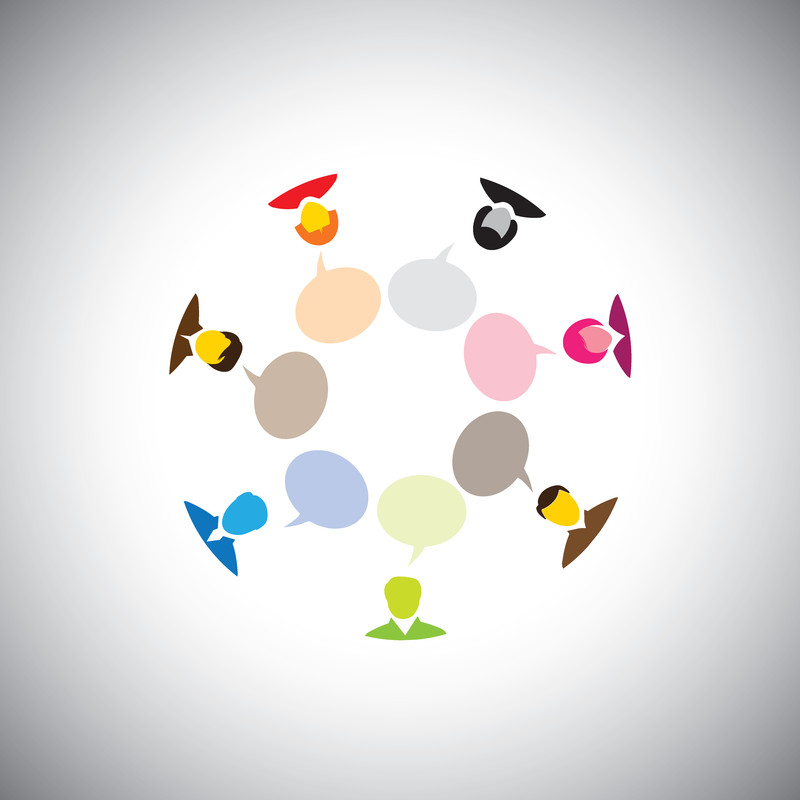 A significant component of digital and Internet marketing is social media, and in many instances it has been the main channel for interaction between a brand and its potential customers. It all boils down to connecting with targeted audiences, for it is your audience who will read or view your story. How effective you are in building this connection and engage with your audience through your story – and convert them into loyal customers – will be the determining point of your digital marketing success.
Unlike traditional media, social media engagement swings both ways but it is almost always the brand or the business who will initiate first contact and take control of the communication exchange. Without this two-way communication, social media marketing is nothing more than just free promotion that delivers no results. The following attempts to provide insights that will help you with your digital marketing campaign and drive healthy levels of social media engagement that generates favorable results.
1. Drive Social Media Engagement with Content Targeted Audiences Will Care About

With practically trillions or more bytes of data flooding the virtual information highway each day, don't expect consumers to care about every piece of information about a brand, product or service that come their way. What these people care about is something that caters to their own needs, amusement or interests.
That's why brands should make use of effective techniques that will catch their targeted audiences' attention long enough for them to generate engagement. They can do this by sharing unique, original and compelling content – not necessarily branded content – that can satisfy the needs of their targeted audiences. Content they can't get anywhere else and can connect with them at an emotional level will most likely generate and drive active engagement.
If you don't know where to start with your content, the following diagram will give you a glimpse of the top topics shared on social media. Note that it will still all depend on who your targeted audiences are so studying and identifying who they are and what their needs are first are critical to your social media marketing success.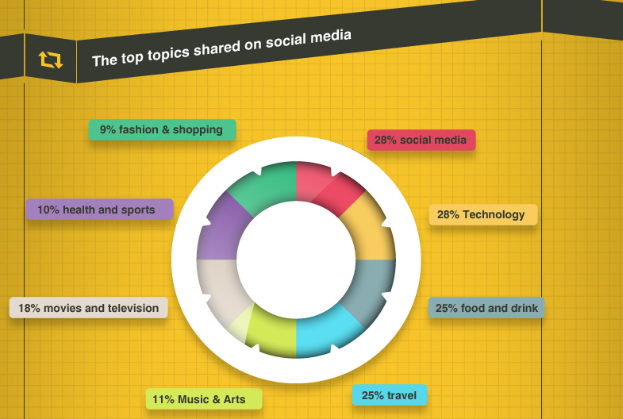 2. Drive Social Media Engagement by Using the Right Words
The simple, basic act of using just the right words in your social media posts may spell the difference in generation a healthy level of likes, shares, retweets and other social signals. The rights words can be the single most valuable element that will entice targeted audiences to read your post and participate in engagement activities with a brand.
Take not however that using the right words for a particular social network, like using the basic but effective "please retweet" phrase on Twitter, will not have the same effect or results if used on other social networks. There's a science in using the proper words and phrases but this vary for every social network catering to a particular set of targeted audiences.
For Twitter, words and phrases like "check it out", "how to", "help", "great", "free", "top 5", "top 10", "follow", and "retweet" among others may generate good results, just like the use of "warns", "encourages", "suggestions", "unites", "entertains", and "grants" do at Facebook. The use of the words "smart", "amazing", "huge", "history", "science", "critical", and "hacks" on blog posts will generate more traffic.
However, the use of these keywords will only work if they are woven together with authentic and rich content that contain the bulk of information targeted audiences need.
3. Drive Social Media Engagement with Content Related to and Not About Your Brand

Facebook conducted an earlier study that aimed at identifying the main factor as to why a particular piece of content posted by popular brands generates engagement from social media users. The study categorized the types of content or messages a brand posts on its pages as:
Promotional content about the brand, product or service
Non-promotional content that is related to the brand
Content unrelated to the brand
The results indicate that the type of content that generation the highest levels of engagement are those related to the brand but are not directly talking about or promoting the brand, its products or services. What this simply say is: social media engagement is about the customer and not about you – so focus on the needs, interests and wants of your targeted audiences.
4. Drive Social Media Engagement by Going to Where Your Targeted Audiences Are
No matter how frequent you post on your blog or social network page, or how great the quality of content you are sharing, if your targeted audiences don't know that they exist, you won't be generating any amount of engagement or even traffic. Don't wait for your targeted audiences to find you. Go out there and make your online presence known to them by initiating contact at places where they hand out online.
Such places could be another blog they frequent to and are actively participating in comments and discussions. It could also be another relevant social media page or group where they participate in discussion threads about particular topics they are very much interested in. The key here is to identify first who your targeted audiences are, their interests and hot buttons – and look for them on specific blogs, pages and groups that cater to such interests.
One you're in, participate in the discussions and give your share of insights and information. Establish rapport with identified audiences in these pages and set yourself up as an authority on certain topics. Targeted audiences will eventually take notice and be interested enough to make further engagement and visit your pages, blogs or websites – where ultimately conversion can take place.
5. Drive Social Media Engagement with Photos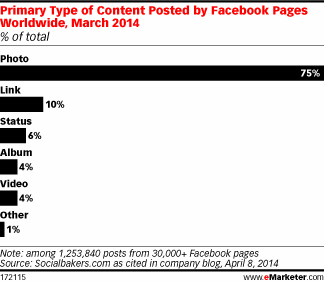 According to eMarketer, 75% of Facebook content are photos. They generate up to 87% interaction rate with Facebook users, way above any other types of content in this social network. The same phenomena occurs at Twitter, although at more subdued levels, with tweets containing photo URLs generating more retweets by as much as 35%.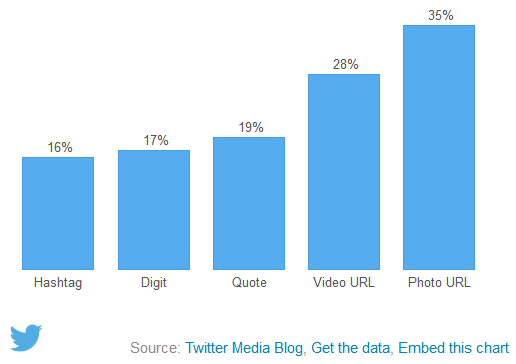 These and other statistics similar to this generated from other social networks is a clear indication of the power of photos and images for generating engagement. This of course does not involve posting any type of photo just for the sake of posting anything, but should involve sharing high-quality photos, images, posters, memes, infographics and other visual based content that is relevant or interesting to targeted audiences.

6. Drive Social Media Engagement with Video
If photos generate good levels of social media engagement from targeted audiences, expect videos to generate even more favorable results if posted with your main content. If a single picture may be worth a thousand words, a single minute of video would be worth 1.8 million words according to Forrester. It's no wonder why 60% of visitors to a blog, page or site will watch an available video first before they start with any other content.
A great thing about video is that even 59% of senior executives would rather watch a video presentation that read through text and 75% will watch videos even while they are working. Another great thing here is that up to 65% will click and visit the video provider's website or page after watching a YouTube video that interests them. Other studies also indicate the power video has for generating engagement, with up to 26% of viewers actively seeking additional information about the showcased brand, product or service, 22% visiting their website, and up to 12% ultimately making a purchase.
7. Drive Social Media Engagement by Perfect Timing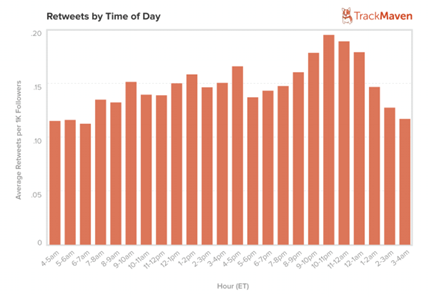 Timing is also key to social media engagement success and the perfect time for posting content varies depending on a particular social network. For Twitter, the best time of the day to tweet and get better chances of getting re-tweets is from 10:00 p.m. and 11:00 p.m. ET. After-hours tweeting is effective because share volume during this time is lower. The best day of the week to generate re-tweets would be on Sundays.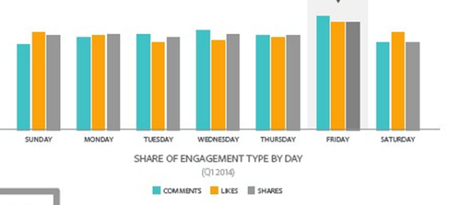 For Facebook, Friday falls as the best day of the week to generate more likes, shares and comments. There is a slight difference with Pinterest though as each day of the week can be the best day for posting for a particular type of pin. These pin trends are as follows:
Monday: Fitness
Tuesday: Technology
Wednesday: Inspirational quotes
Thursday: Fashion
Friday: Humor
Saturday: Travel
Sunday: Food and crafts
8. Drive Social Media Engagement by Responding to People that Initiate Engagement with You
If targeted audiences initiate the contact and make the first move for engagement, then you can generate even more engagement activity if you respond to them timely and properly. Studies show that for Twitter, up to 53% of users sending out a tweet directed to a brand is expecting a response during the same hour they posted – 72% if what they posted was a complaint.
A simple acknowledgement to a comment or a sharing of valuable insight for an inquiry will matter high with targeted audiences, helping build rapport and trust that will spell the difference to success in social media marketing.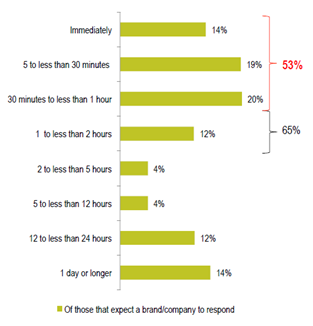 Social media is a very strong force to be reckoned with in this new evolving era of digital marketing. However, social media marketing is not like traditional forms where one-way communication may work to a certain degree, as it relies on two-way communication and engagement to make it work. So take these tips just shared to heart and start building an effective social media campaign that generates engagement – and results.