8 Content Marketing Trends for 2015 (Infographic)
Home » Blog » 8 Content Marketing Trends for 2015 (Infographic)
by Jomer Gregorio on January 13, 2015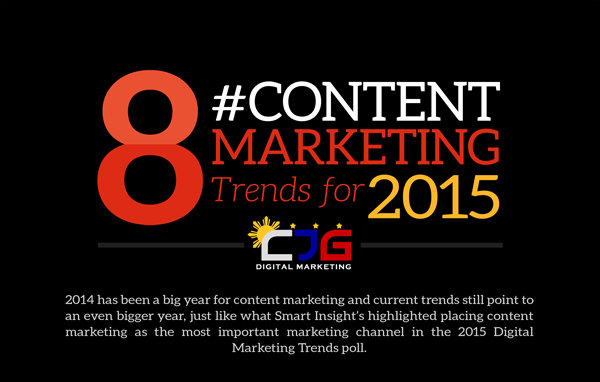 By this time, many businesses and digital marketers may have already realized that content marketing is not just some fad that you should do – because everyone else is doing it – but rather a very important strategic asset that will boost profitable results across all digital marketing channels.
2014 has been a big year for content marketing and current trends still point to an even bigger year, just like what Smart Insight's highlighted placing content marketing as the most important marketing channel in the 2015 Digital Marketing Trends poll.
Businesses from all markets and verticals are making concrete plans for boosting their content marketing efforts, like B2B marketers increasing their content marketing budgets and creating more content than what they ever did before.
Even major brands are joining in the fray, with as much as 69% steadily increasing their content production and will continue to do so in 2015. Other businesses should heed these trends and start performing concrete action towards a more robust content marketing plan – starting with these top trends to watch out for in 2015.

Download this infographic.
Embed Our Infographic On Your Site!
The following two tabs change content below.
Jomer B. Gregorio is a well-rounded expert when it comes digital marketing. Jomer is also known as a semantic SEO evangelist and practitioner. Check out our
Digital Marketing Services
today and let us help you in achieving positive and profitable results for your business.
Latest posts by Jomer Gregorio (see all)